A list import has a couple of steps. First, you'll prepare your spreadsheet file of contacts outside of SlashLead, and save it as a CSV file. Next, you'll use our handy customer import builder to add your customers to your SlashLead account.
What is a CSV file and how do I save my spreadsheet as one?
A CSV is a comma separated values file which allows data to be saved in a table structured format. CSVs look like a garden-variety spreadsheet but with a .csv extension. Traditionally they take the form of a text file containing information separated by commas, hence the name.
CSV files can be used with any spreadsheet program, such as Microsoft Excel, Open Office Calc, or Google Spreadsheets. They differ from other spreadsheet file types in that you can only have a single sheet in a file, they can not save cell, column, or row styling, and can not save formulas.
In ecommerce, CSVs are used primarily for importing and exporting product, customer, and order information to and from your store.
In a spreadsheet program like Excel or Sheets, open your blank worksheet.
Create and label a column for email address.
Next to your Email Address column, create and label additional columns for First Name, and Last Name.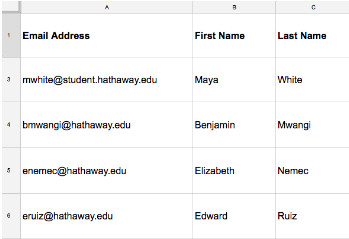 Paste your contacts' information into the relevant fields in the spreadsheet.
Click on File and choose Save As.
Save the file in CSV format. This option can usually be accessed from the File menu in your spreadsheet program, labeled as "Export as .CSV" or "Download as .CSV". Different spreadsheet programs will vary a little bit. If you use another file type, we won't be able to process the file.
You may see a message that your file "may contain features that are not compatible with CSV." This message is to inform you that any formatting you may have (such as colors or bold text) and any formulas will not be preserved in the CSV formatted file. Click Yes to continue.
Note: When you import new subscribers to an existing list, we'll remove any duplicate, bounced, or unsubscribed addresses that are already stored in the list.
---