---
Unfortunately after a beautiful campaign not everybody will close a deal with your sales proposition. But it will tell you interesting information. Information you can use in a next campaign or in a follow up campaign.
Is the email personal enough so the customers will feel special?
Was it relevant enough to land on the landing page?
Does the email looks recognisable enough that the customer will open the email?
In the statistics you can select directly your follow up audience.

Select the status:
Form not submitted (but landed on the landing page)
E-mail opened but not clicked the CTA button (the Call-To-Action button in the email)
Email not opened (most likely not interested)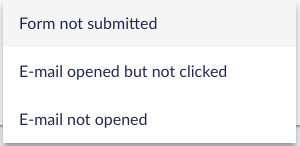 Select your preferred status and click the button to create and download the CSV file. You can use this CSV for your follow up campaign.
Start your follow up campaign by creating a new campaign and follow the campaign flow.
And remember "Make it personal, stay Relevant and be Recognisable"
---