---
After the basic campaign setup your sales campaign starts with writing an irresistible email. Write a personal email to make a relevant message to your target audience.
With the insert place holders you only have to write it once. Click the white plus and select the applicable place holder. For instance 'Dear [First Name]' becomes 'Dear Peter', 'Dear Nathalie', 'Dear Bob', 'Dear Ann' etc.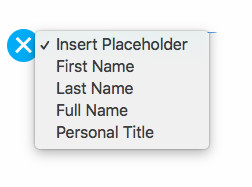 You can use the placeholders anywhere in your text. The more personal the message is, the better it will be recognisable by the customer and a higher conversion might result.
So you start with the salutation. It's the way you normally address your customers like:
Dear [Personal title] [last name] or Hello [First name].
Than write the body text. If you select text in the body text a small tool tip will appear so you can style your text.

You can add more placeholders to make it more personal. Later in a coming update we will add more placeholder items.
Your email signature was set before and you cannot edit it here.
Finally you can edit the Call-to-Action button. Click in the button and type the text you need to persuade your customers to go to your landing page.